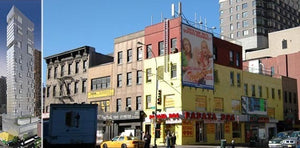 What is your background that led you into the costume industry?
How it All Began
I had a crappy retail job in a schlock store at 156 west 50th Street in the late 1970's.  Woolworths was next door, and Capezio was above Woolworths on 7th Avenue.  Tour busses would park on that street, and discharge tourists going to Radio City Music Hall, Broadway, Times Square, Rockefeller Center, shopping on 5th Avenue.  There was a steady flow of bargain hunters, and my boss was the king of closeouts 50 years before it became a thing.  Also, the ballet bun heads who couldn't afford Capezio leotards, attacked the cheap, second quality leotards that he sold 2/$5.  They'd park on the floor for hours, and open every package stored in2 cardboard cartons just to buy 2, and left a mess of packaging that needed to be reassembled.  I knew schlock, the behavior of schlock seekers was not for me.  
Because of our location, wardrobe and costume folks stopped in regularly to see if perhaps Joel had received a treasure in his weekly shipment of hosiery. Once in a while we'd get a box with 2 out of 20 dozen pairs of pantyhose that were in a nude color, and size C or D.  We tended to get a lot of navy petite and grey xtall. The hose were irregulars or seconds, and cost a fraction of the suggested retail price of first quality.  The spiel, when asked what made things irregular, was "nothing that affects the look, wear or fit of the item."  Sometimes it was a missed stitch in the waistband, or there were significant variations of the dye lots, and for the most part, they were a smart, economical purchase for women who needed to wear pantyhose everyday.  For the theater, though, we needed tights that were consistently available. 
Helen Tarr was Liza Minnelli's personal dresser, had been Judy's, too.  She and I developed a rapport, and she'd ask for things she needed, which Joel never responded to.  Can you imagine telling the woman who was a personal shopper for the world's most famous entertainer that something was too expensive for her?  I, however, was determined to get the Hanes Alive sheer to waist support hose style 811, in Liza's colors:  Barely There, Little Color, and Black.  She stitched the tights to Liza with a Z's bras to make a body smoothing undergarment, long before Spanx billionaire Sarah Blakely was born! 
I also met Alyce Gilbert, who was working on a Chorus Line, and she needed sheer-to-waist,  extra long support hose in several skintones too.  I knew we couldn't depend on the closeouts, and started to source options for this.  Little did I know this would become my lifework, and I'd become the Sourceress for Broadway.  
I discovered that I had a talent for being able to look at someone and know their bra size.  I became the buyer for the store, and we had a major expansion 2 years after I started work there.  Bill from Eaves Brookes costumes stopped in to shop on Saturday mornings, he was such a jovial drunk. I met Irene Bunis on Sugar Babies, supplied the daytime soaps with oodles of pantyhose every week.  
We expanded again, and I stayed at that job, training to be the Fairy Bra Mother, for 20 years.  Then, enough became enough, and I left, starting Bra Tenders.
I started the biz with my now ex husband, 20 years ago.  It was just us 2 in the beginning,  and my first customer post S&S was the film A Beautiful Mind.  bullet bras. Girdles. Bobby socks. White Cotton granny panties.  Then in quick succession, calls from Doug Pettijean working on The Producers,  Nancy Palmitier and Jenn Halpern, Debbie Cherutin, 42nd Street, Thoroughly Modern Millie.  David Woolard and Robert Guy, Rocky Horror Picture Show.  Had a funny not funny incident with WIL because of the now ex husband, but that's for another day. 
We moved to a small space on the second floor at 400 west 42 st, and Bra Tenders started growing.  We hired one employee. Then, a few months later, Saks called, asking if they could send their brides to us.  Subsequently, 6 months after my departure, S &S went out of business, and I hired 2 of the women who worked there.  We moved into our current location in the film center building in 2003, and before Covid, had 7 employees serving Broadway, tours, regionals, Hollywood, TV, fashion shows, stylists, opera and dance companies, cruise ships and theme parks.  
We carried undergarments to Philadelphia for La Streisand, and was invited to an insider only rehearsal for her first tour in 20 years, shortly after 9/11. A friendly audience was there to support her and help assuage her stage fright.  200 of us sat in the 50,000 seat arena,  she even quipped: "you're all here for free, and tomorrow night this place will be sold out to 50,000 paying customers!"    There were some costume disasters, and she wouldn't look at the underwear.  I got to sit close enough to see her manicure,  and she took turns on stage with Il Divo, who was awful, but filled the space when La Diva needed a break, or costume change, or whatever.   The performances lasted for 4 hours.  She did a routine about George Bush that many folks in ensuing performances were offended by, and this audience found hilarious. 
Susan Sarandon was rude during her fitting and would not wear the size that fit her because she knew best.  
Bette Midler had a custom undergarment made by one of the costume shops, and also liked a particular goddess 689 strapless longline bra when she didn't want to be so confined.  She bought that bra when I worked at S&S, and even though she had slimmed down, she liked to wear the same old, big bra,  in the same 36DD size, even though the size that fit perfectly was 32F.  She yelled at, and harangued me about plastic waste and the destruction to the environment after a fitting because of the plastic hangers bras are hung from.  
Gloria Estefan had such an Uplifting Experience, she brought her whole family shopping.  I helped turn John Glover into an aging drag queen. We printed tights for The Wickeds, supplied  the Hamilsox, the Chicago fishnets, and black bras and underwear.  Last year We sent Beyoncé's costume shop 48 pieces of one bra style that worked particularly well for her.  Found the perfect socks for Liev SChreiber's Ricky Roma.  Jimmy Smits came to Bra Tenders to meet me and kissed my hand, swoon.  Lin Manuel's wife Vanessa is my customer.  Mrs. Lauder, the matriarch, is a customer.  
We worked with 6 Saudi Princesses, and their bodyguards had to secure the building perimeter, elevators, hallways, and yes, our shop, looking under furniture and in our one closet, to ensure the safety of the royals.  The woman in charge kept the male muscle on a tight leash, and her hand near her holstered weapon.  
Gloria Steinem, my role model, who convinced my generation to "burn our bras" came to me for a bra fitting.  
I couldn't have imagined this life, but I am the best at what I do, and I care about the people I serve.  I see history through the shape of the cups of  brassieres.  
---