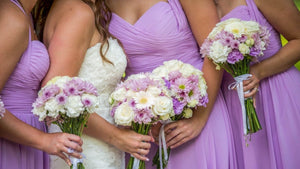 Why Shop for Bridal Foundations Before Selecting Your Gown?
Your Perfect Bridal Foundations Fitting Happens at Bra Tenders
Don't let shopping for your dream wedding dress get stressful. With the right fit and style of foundations and bridal lingerie, you can look and feel gorgeous and confident in whatever dress you choose. 
Bra Tenders NYC will make sure you look dazzling on your wedding day.
Why Shop for Bridal Foundations Before Selecting Your Gown?
As fashion icon Tim Gunn says, "You can't build on a rocky foundation." Besides that, here's three reasons why shopping for bridal foundations BEFORE dress shopping will save you time and grief:
The right bra or bustier will determine the drape and fit of your wedding gown
You'll need to take the undergarments to your fittings
You'll need the right foundations for proper alterations
Your Wedding Dress Journey Starts Here at BraTenders NYC
It's essential that the bridal lingerie you select is comfortable and supportive. To find the right style of bra or lingerie to suit your wedding dress, ask yourself these questions:
Does my dress have an open back or a plunge front?
Do I need a strapless bra or foundation?
Where is the dress most fitted?
Is it a ballroom, slip style, boho or mermaid?
Will I need a high waisted brief or thong, a mid thigh shaper or capri length?
All these elements can help our bridal lingerie experts at Bra Tenders NYC guide you towards the perfect style for your special day.
Book your bridal lingerie fitting with us.
For appointments CLICK HERE.
---