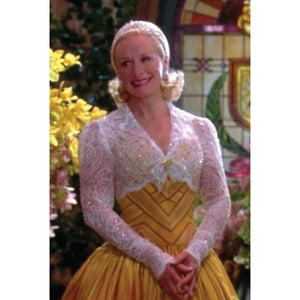 The Show Must Go On
In 2002 we worked with the design team for the highly anticipated remake of  the movie, The Stepford Wives, starring Nicole Kidman, Bette Midler and Glenn Close in the female leads.  Kidman played a reality television executive who suffers a total meltdown, and runs to hide in the suburbs to avoid the fallout from a desperate contestant shooting up the audience because reality TV wrecked his life.  Matthew Broderick, still on fire from his role as Leo Bloom in the record breaking, 12 Tony Award winning production of The Producers on Broadway, (BraTenders first major musical) is the hero who whisks Kidman away to safety in the Twilight Zone village of Stepford, Connecticut. (Horror movie music.)
But something was rotten in Stepford, as Kidman's Joanna soon found out. The women, stunningly beautiful and perfect, were actually remote controlled automatons, and were programmed to be subservient to their husbands, look pretty and never question anything their men did or said.  Apparently, according to this film, the only way to feminize a group of former corporate powerhouses, was to lobotomize and robotize them.  Stepford was no place for a woman with a mind of her own.
Close's character was the ringleader, and she had the amazing ability to increase the other women's breast sizes with her handy, dandy remote control.  The costumes by Ann Roth created the ideal 1950's silhouettes for the wives, the dresses having fitted bodices and full skirts.  
Imagine coming home after a hectic day of golf,  and there she is, your beautiful remote controlled Barbie. She's wearing a gingham dress, with a poofy skirt, showing a lot of cleavage, yea, and red fuck-me-pumps. Her hair and makeup are perfect, unsullied by humidity or perspiration, even though she's been baking, braising and roasting delicious dishes since you left for the clubhouse so many hours ago.  Her mouth is moist, cherry red and glossy, and she flashes that perfect smile at you, that smile, just for you. She's eagerly, anxiously waiting to press a gentle kiss onto your cheek, and leave a lipsticked stain, her brand, upon your face. She'll look at you and giggle. She hands you the perfectly concocted cocktail, just the way you like it. The mere thought of pleasing you makes her orgasm, it's so damn cute.  She takes your jacket and man bag before going back to the mirepoix on the stove, and blows you a kiss.  
The uber feminine clothes, which Roth called "a man's fantasy"  added to the ridiculousness of the male ideal of the perfect woman, so the designer wanted to see a variety of waist cinching garments to help create the exaggerated body proportions of 36-24-36.  We lent the design team a variety of bustiers, waist cinchers, and other shapewear with transformative super powers for the women to try with the dresses.  We had the opportunity to take a potentially significant order for multiples of the garments that helped the designer achieve her vision for the characters.  Although we didn't get any credit for our movie work, it still gave me a thrill to know that Bra Tenders, moi,  played a part in the overall creative process of bringing the characters of Stepford to life.  
In an interview in the Daily News in 2004,  Ann Roth explained, "When the women sat down, I wanted to see a wonderful petticoat. I wanted the feeling of a bra and a feeling that the bra is holding up something substantial. And I wanted the feeling of a waistline that is very in and stays in, even when she's making three dozen cupcakes for her child's birthday at school." 
The designer chose a bustier with padded demi cups and a deep V center gore. The back plunged down to the waist, and the band of the bra was a waist cincher, with thick, heavy elastic side panels that whittled the waist by at least two inches. The Flattering Me bra had been created by a wedding dress designer who couldn't find an undergarment that worked under his gowns, so he designed and created one that nipped, tucked and lifted the way he wanted.  We agreed to test it in our shop and it became an immediate hit with brides for their gowns from couture designers. The hourglass shape it sculpted was exactly the look Ann Roth wanted, and they ordered two dozen pieces. 
Though successful, as a small business we couldn't afford to keep a vast amount of inventory in stock. We had a plethora of styles to choose from, but only stocked one or two pieces in each of the sizes, and reordered when necessary.  We had a few of the pieces in stock, but needed to order the majority of them from the distributor.  
"Hello Coco, it's your favorite Bra Tender, live from New York!  The brides love your bra, and I need to place a sizable order now."  
"Lori, good to hear from you!.  That's good news, a reorder!  Has anyone famous bought my bra?"  I could hear him smile, with his sexy Spanish accent.
"Well, I do need these bras for a movie. Write this down - eighteen 34B, nude, two 36D, and four 34C. Nude as well. And I need them by the end of the week."
"A movie? That's great! Which one?"  he asked excitedly. Coco loved our showbiz connection, and he hounded me to get celebrities to tout his bra.
"I can't tell you that Coco, but if you're nice to me, I'll think about it.  And Coco, we're working with a prominent designer for the first time - I'm counting on you to help me make a good impression. The deadline is as tight as the brides want the corset."
I was edgy as the day progressed and didn't hear back from him.  When I finally did, Coco didn't have good news.  "Lori, I do not have the eighteen pieces in nude in 34B to give you. I have the D cup bras, and one C. This hurts me.  Here's the thing. In my factory, I have all the bodices ready to go. I have been waiting for one of my suppliers to deliver the hooks and eyes for the back closures for a few weeks now. That's the only part of the garment still missing."  
"But what good is the bra if you can't close it? Oh shit. Do you have any other colors available? Ivory, white?  I'll have to ask my customer if that's OK, but I need to know if we can deliver first."
"Lori, listen.  I tell you it's a strange situation."  He phumphered for a bit, I stayed silent. "I don't know how to explain it."
"Just say it Coco. Are you going out of business? Are you done? Did I find this great product, and now have to forget it?"
"No, no, it's not like that at all.  You know this country is at war now, yes?"  It sounded like jess.
"Yes, I'm aware of that. What does that have to do with anything?" I couldn't wait to hear this one. Bullshit alert...
"Well, the hooks and eyes we need for the back closure...there is only one or two companies that still make these. Deliveries are all backed up because of high demand." Blah blah blah...I can smell it.
"This sucks and puts me in a really bad position. What does the war have to do with anything, anyway?"
"Well, the US army have requisitioned all the hook and eyes from my distributors to use in parachutes and other war materiel. Any company who makes these hook and eyes, have to give them to military.  The military take all the ones my supplier allotted me for the bustiers, and now that factory is working all the time to make more hooks. But not for me. Just for the army."
"Well I'll be damned."  Who woulda thunk that war and brassieres had anything to do with each other, except maybe that women soldiers needed bras.  "Coco, listen, you have to help me. Please. It's the first time we're working with this designer and I can't leave a bad impression. That would be terrible."  Ann Roth was a grand dame in the costume world, movies, Broadway, everything.  Getting off on the right foot meant a lot.
"But what can I do?"  
"Here's what you can do.  Please call some of your other accounts and ask to buy back the bras from them.  Or find them for me and I will buy them directly. You must have a few bridal stores that carry it around the country, right?"
"Yes, yes, we have many accounts."  He started to name them. 
"Then please scrounge around and find me eighteen 34B's, any combination of nude, white, ivory. No black. Please Coco."
"Ok Lori, I like you guys. Let me see what I can do."
"How much time do you need?"  I asked, fingers crossed. 
"I will start by seeing what I have in stock at my bridal store. I will call you back tonight. What time do you close?"
"The phone forwards to Alan's cell when the shop is closed.  If you have to call at midnight, call at midnight."
"OK, I get back to you."  I didn't think I'd be able to breathe until I heard from him.
Alan called the design associate to explain the situation. Just as we had been shocked at the weird circumstances, so was she.  She gave us some flexibility with the sizes, agreeing to take some larger sizes that could be altered if need be. We told her we'd call as soon as we heard news, one way or another. 
The world was still reeling from the 9/11 attacks, and now in April of 2003, we had this additional complication in our business, unbelievable as it was.  At first I didn't know if I believed Coco, and then thought, who could make up a story like that? 

War had managed to unhook the bra making supply chain.
I resisted my impulse to pick up the phone and call him every half hour for an update. I knew how to be a pain in the ass until I got what I needed, but in this case, it seemed pointless, so Alan and I went about our business, grateful for the distractions of work.
That night about 9:00, Coco called from his cell phone.  "I have good news. I had six nude 34B in my store. I have an account in Texas who has another six.  I'm waiting for another few bridal specialty stores to get back to me. So far, at least we have twelve. The Texas store is ending the bras to me by two day air. When I receive them, how do you want to me to send?"
"That's really good news Coco. Please send them FEDX overnight."
"OK. Will get back to you tomorrow, I hope, about the rest."
"I'll keep my fingers crossed."
The next day when we got to the shop, our neighbor Victoria, a wizard with scissors who owned the hair salon next door, came by to say hello.  Her body reminded me of a Tootsie Pop.  She was at least a hundred pounds overweight, completely round, on stick skinny legs.  She had a raucous laugh, and her pup Norbie, was best friends with our cat Moonbeam.
"Hey ya'll, I'm doing a fundraiser for the troops, collecting things to send them to boost their morale. A lady who lives near us in the Poconos has her husband stationed over there and he said they're asking for old pantyhose. Can you help?"
"So what, they playing dress up between rounds of artillery fire?"  I asked incredulously.
"Bwahaha, shit, no, nothing like that.  They're in the desert, and the sand is mucking up all the equipment -the mechanisms on the rifles, the motors of the tanks. The sand gets into the moving parts and gums them up. They said pantyhose make great filters. They are sheer, so they don't interrupt the airflow, but they make a great barrier against the sand."
"And how did they find that out?  Some drag queen manage to enlist?"
"I don't know Lori. What I do know is that they asked for help, and I want to help. Are you in?"
"Sure, we'll do what we can. What else do they need?"  
Vic and I talked for a while, and when she returned to her salon, Moonbeam wanted to go with her.  Norbie, an affectionate though neurotic Yorkie, was about the same size as Moonie, and they shared their water, food and toys with each other.  Victoria had taken care of Moonie after 9/11 when we couldn't get into the city because of the bridge and tunnel closures, and we used to laugh that Norbie and Moonie were the first interspecies gay couple.  I felt grateful that Victoria and her chubby hubby Lenny, a massage therapist, had befriended Al and me, and we spent many weekends with them in the Poconos, cooking and drinking tequila shots while playing pictionary. I was happy Moonie had a friend too.
Right after Victoria left, I had a brainstorm and rushed over to the salon, excited.
"Vic, I have a great idea! You know they use a lot of pantyhose on Broadway, and they toss a lot, too.  Most of them are only good for one wear, and as soon as they nick or ladder, boom, they're trash.  I'll ask the wardrobe supes to collect the hose they would normally toss, and save them for us.  Then we can send them over, and include little notes, Brooke Shields wore these pantyhose in Wonderful Town on Broadway. Hope they save your ass!    I'm sure Broadway would be happy to contribute to the soldiers' safety, even though most of the community doesn't support the war."
"That's brilliant! I love that idea.  I have a collection box in the salon, and we'll send it off every week.  Just bring me what you got and I'll take care of it."
"You got it!  I'm going to get busy on the phone."
I felt relieved to have something to work on while waiting for Coco to  check in.  When I hadn't heard from him, I couldn't resist,  and called him.
"Hi Lori, good that you called me.  I found another six bustiers from two accounts.  I have told them to just send to you directly, instead of sending to me first, to save some time. I pay the shipping."
"Thank you CoCo, thank you so much!! I really appreciate this. You have no idea how relieved I am."  The knot in my stomach loosened its grip on my bowels.
"Now, will you tell me what movie?"  Hmm. Did I have to reveal my customer to express my gratitude?  Al and I talked about it briefly and decided that it would be OK, since this was essentially a done deal with the movie already.
"OK, Coco, I'll tell you. It's a remake of The Stepford Wives, starring Nicole Kidman, amongst others."
"I really like her. So she's going to wear my bra?"
"Yes, all the women will wear the bra. Bette Midler, Glenn Close"
"Wow, Lori! Can I use that to advertise?"
"You can do whatever you want, though I would appreciate your discretion, at least until the movie is released."
"Ok, Ok, sure. I understand."
"Besides, don't you want to see how the costumes look before you start bragging?"
"You have a good point there. I love all these women. I can't wait to see."
"Please send us an invoice, and any other charges.  Thank you so much Coco. You saved our asses."
Very much relieved, I began making phone calls to request dead pantyhose from Fiddler on the Roof, Wonderful Town, Chicago, 42nd Street, Caroline or Change, and Nine.  A few weeks later I had collected about forty pounds of pantyhose. We cleaned out our stockroom and tossed in odds and ends of samples we had collected over time too.  We threw in some edible goodies, donations from  local businesses,  gum, Ricola, first aid supplies, magazines, and notes of support and encouragement for the troops. I imagined their weary, fatigued and dusty faces as they read the notes explaining the origins of the pantyhose. I hoped it brought a smile or two.  "Brooke Shields wore these on her mile long legs."
In my wildest dreams I couldn't have imagined the scenarios we had we just encountered.  The phrase Bullets over Broadway stuck in my head as I thought of the unlikely effect of  war on the intimate apparel  industry. I remembered that Woody Allen had written and directed a crime movie of that same title in 1994, but I liked my new version better. 
In those days following September 11, The Broadway community had worked tirelessly to keep the stage magic alive in the face of great odds.  Our city had been locked down and placed on alert, and was guarded by men in riot gear armed with assault rifles on every corner in Times Square and the theater district.  Tickets sales slumped, and for the first few days following the attack, Broadway went dark.  I kept waiting for the other shoe to drop, and whenever a plane flew over the city, a no-fly zone, I ducked. 
I was grateful that the show must go on, and when we all got back to work, everyone had a 9/11 story.  Work kept us going, and I remembered a movie about a theater in Paris during WWII, and the actors who put on fantastical shows while bombs dropped left and right, and thus maintained their sanity and humanity.  The show must go on.
---